Wallingford Connecticut 06492
Wallingford CT History Dining Travel & Business Information

Welcome to Wallingford, CT.
Wallingford, CT was incorporated in 1670. A separate Borough of Wallingford was incorporated in 1853 but on June 3, 1957, the Borough and the Town voted to consolidate effective January 1, 1958. The present Town Charter created a Mayor-Council form of government in 1962.  Wallingford includes the villages and communities of East Wallingford, Quinnipiac (partly in North Haven), Tracy, Wallingford Center, and Yalesville.
Wallingford borders Meriden to the north, North Haven to the south, Cheshire to the west, and Durham to the east. The Town of Wallingford covers an area of 39.8 square miles along the Quinnipiac River in northern New Haven County. It is five miles south of Meriden and about thirteen miles north of New Haven.
Situated in the Hartford-New Haven corridor, Wallingford is traversed by U.S. Highway Route 5, Interstate 91, State Highways Route 15 (Wilbur Cross Parkway), Route 68, Route 71, and Route 150. Wallingford is home to Choate Academy, one of the top-rated private schools in New England.
Wallingford History
During the nineteenth century, the town of Wallingford expanded with the expansion of pewter, Britannia, and other manufacturers.  By the mid-century, Robert Wallace acquired the formula for nickel silver and established with Samuel Simpson, R. Wallace & Company the forerunner of Wallace Silversmiths. It was also during this period that many of the small silver and Britannia plants were combined to form the International Silver Company with its headquarters in Meriden and several plants in Wallingford.
Today, Wallingford is a thriving, diversified community – the twenty-third most populous community of Connecticut's 169 cities and towns. Wallingford has a large variety of industries and major corporations in the spectrum of medical, health care, service, hi-tech specialty metal manufacturing, and research development.
The development of the Barnes Industrial Park, Casimir Pulaski Industrial Park, Wharton Brook Industrial Park, and the South Turnpike Road house most of the town's industrial activity. Bristol-Myers Squibb Company, the Town's largest taxpayer, has a research and development facility in Wallingford's Medway Industrial Park.
The Paul Mellon Arts Center at Choate Rosemary Hall is one of several Wallingford, Connecticut attractions. The town also offers sensational dining and shopping options that include some of Connecticut's top-rated restaurants. Local Historic Places include John Barker House, Joseph Blakeslee House, Center Street Cemetery, Franklin Johnson House, Theophilus Jones House, Nehemiah Royce House, Samuel Parsons House, Samuel Simpson House, Wallingford Center Historic District, and the Wallingford Railroad Station.


Michael's Trattoria, 344 Center St., Wallingford, CT 06492 | 203-269-5303
Award-winning Italian Specialties - Parmigiana, Zuppa Di Pesce, Pasta, Chicken, Veal, Steak, and Seafood served 7 days a week in a relaxed atmosphere. Begin with fresh baked bread served with Michael's own amazing Virgin Olive Oil Dip and complete your meal with Chef-made Banana Cream Pie or fresh-filled Canoli's. Indoor/outdoor dining. Pizza available in the Bar/Lounge or take out only. Catering and In-House Luncheons for up to 40 people available. Michael's Trattoria has served the Wallingford community for more than 25 years.
Visit Michael's Trattoria, Wallingford, CT
---
To share any Wallingford, CT information with us, please contact us.
Wallingford, CT: A Vibrant Town Blending History, Nature, and Modern Living
History of Wallingford:
Wallingford, located in New Haven County, Connecticut, has a rich and storied history dating back to the 17th century. It was established in 1670 and named after Wallingford, England. Originally a farming community, Wallingford experienced significant growth during the Industrial Revolution, which brought factories and mills to the area. Today, the town proudly preserves its historical heritage through well-preserved buildings, museums, and landmarks.
Wallingford Businesses and Employers:
Wallingford's economy thrives with a diverse mix of businesses. While it maintains a strong manufacturing base, the town has embraced technology, healthcare, and service industries. Some of the prominent employers in Wallingford include the electric utility company The United Illuminating Company, and Medtronic, a medical equipment company.
Attractions, Villages, Districts, and Neighborhoods:
Downtown Wallingford: The heart of the town, Downtown Wallingford, boasts a charming mix of historic architecture and modern amenities. Visitors can explore quaint shops, restaurants, and cultural attractions.
Yalesville: One of the villages in Wallingford, Yalesville offers a peaceful residential environment with local businesses and parks.
Wallingford Center: This area preserves the town's historical essence with beautifully preserved buildings and museums.
Parks, Recreation Areas, Hikes, and Historic Sites:
Wharton Brook State Park: Nature enthusiasts can enjoy hiking trails, picnic areas, and serene woodland scenery.
Gouveia Vineyards: A picturesque vineyard with breathtaking views, offering wine tastings and events.
Quinnipiac River Linear Trail: Perfect for walking, jogging, or cycling, this trail follows the Quinnipiac River, providing a serene escape.
Wallingford Historical Society & Museum: Discover the town's past through exhibits and artifacts.
Places of Interest:
Paul Mellon Arts Center: Located at Choate Rosemary Hall, this center hosts a variety of cultural events and performances.
Wadsworth Mansion: A historic mansion offering beautiful grounds for events and weddings.
Tradition Golf Club at Wallingford: A well-regarded golf course designed for both casual and serious golfers.
Wallingford CT Real Estate Values and Options:
Wallingford's real estate market caters to a diverse range of buyers. From historic homes in well-established neighborhoods to modern developments, the town offers various options for those seeking to buy or rent property. Real estate values have generally appreciated over the years, thanks to the town's thriving economy and quality of life.
Opportunities and Choate Academy:
Wallingford is known for its educational opportunities, highlighted by Choate Rosemary Hall, a prestigious private boarding school founded in 1890. The academy offers top-tier education and numerous extracurricular activities.
Employment and Quality of Life:
Wallingford's job market continues to flourish, providing residents with numerous employment opportunities in different sectors. The town's quality of life is a major draw, featuring excellent schools, a low crime rate, and a strong sense of community. With its mix of historical charm and modern amenities, Wallingford offers a comfortable and fulfilling lifestyle.
Wallingford CT Living:
Living in Wallingford means enjoying the perfect balance between urban convenience and natural beauty. The town hosts a variety of community events and festivals throughout the year, fostering a strong sense of togetherness. Whether exploring its historic sites, engaging in recreational activities, or experiencing cultural events, Wallingford provides a fulfilling and enriching living experience for its residents.
Wallingford, CT, is a town with a fascinating history, thriving businesses, and attractive residential options. With its picturesque landscapes, excellent amenities, and educational opportunities, Wallingford remains a sought-after destination for both residents and visitors alike.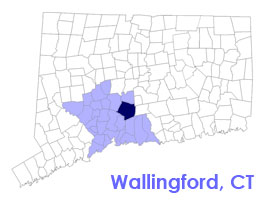 Incorporated: 1670
County: New Haven
Wallingford, CT Population:
2010: 45,135
GPS Coordinates:
Latitude: 41.2723
Longitude: -72.4815
Wallingford, CT Local Information
Wallingford Police Dispatch: 203-294-2800
Wallingford Fire Department: 203-294-2730
Ambulance Service: 911
Town Hall Telephone: 203-294-2145
Official Town of Wallingford, CT Website: http://www.town.wallingford.ct.us/
Shop 24/7 at FREE WORLD MALL

| Photo | Title | Price | Buy |
| --- | --- | --- | --- |
| | Connecticut Six-Piece State Magnet Set by Classic Magnets, Includes 6 Unique Designs, Collectible Souvenirs Made in The USA | $22.99 ($3.83 / Count) | Sale Item |
| | Connecticut Kraft Label Scented Soy Candle, Citrus, Lavender, Woody, 10 Oz. Glass Jar Candle, Made in The USA, Decorative Candles, Going Away Gifts for Friends, State Candles | $24.95 | Sale Item |
| | Amerileather Waxy Brown Leather Two Piece Set Traveler | $231.98 | Sale Item |
| | Handmade Leather Carry On Bag - Airplane Underseat Travel Duffel Bags By Rustic Town (Mulberry) Medium | $149.45 | Sale Item |
| | Firu-Handmade Vintage Style Luggage Leather Duffle Bag Travel Gym Sports Overnight Weekender Leather Duffle Bags for Men and Women | | Sale Item |
| | DELSEY Paris Chatelet Hard+ Hardside Luggage with Spinner Wheels, Champagne White, Checked-Large 28 Inch, with Brake | | Sale Item |
| | Large Leather 32 Inch Luggage Handmade Duffel Bag Carryall Weekender Travel Overnight Gym Sports Carry On For Men And Women (32 inch) | $98.99 | Sale Item |
| | DELSEY Paris Chatelet Air Hardside Luggage, Spinner Wheels, Chocolate Brown, Carry-on 21 Inch | $349.99 | Sale Item |
| | Leather Travel Duffel Bag | Gym Sports Bag Airplane Luggage Carry-On Bag | Gift for Father's Day By Aaron Leather Goods | | Sale Item |
| | Fossil Men's Defender Leather Travel Duffle Luggage Bag, Cognac , (Model: MBG9344222) | | Sale Item |
| | McKlein Limited Edition Laptop Briefcase, Black Leather (96315C) | $146.24 | Sale Item |
| | Orvis Outdoor Quilted Snap Men's Pullover Sweatshirt - Mockneck Style Sweatshirt For Men with Four-Snap Quarter Placket, Navy - Large | | Sale Item |
| | vineyard vines Men's Saltwater Quarter-Zip Pullover Sweater, Grey Heather, XL | | Sale Item |
| | Columbia Women's Sweater Weather Half Zip, Chalk Heather, Medium | | Sale Item |


New Haven County CT Living
inns | hotels | resorts | rentals | attractions | dining | real estate
Vacation Rentals | Pet Friendly
Attractions | Maps | Products
Free World Mall

Country Weddings | New England Recipes
CT Inns | Red Sox Gifts | Travel Destinations