Farmington Connecticut 06032
Farmington CT Town Travel Business Information

Welcome to Farmington, Connecticut. Farmington was originally inhabited by the Tunxis Indian tribe. In 1640 a white settlement was established by residents of Hartford, making it the oldest inland settlement West of the Connecticut River and one of the oldest communities in the state.
Early settlers found the area ideal for settling because of its rich soil, location along the floodplain of the Farmington River, and valley geography. The Town of Farmington was incorporated in 1645. Known as the "Mother Town", Farmington was partitioned into the towns of Avon, Bristol, Plainville, New Britain, Berlin, Southington, and Burlington.
Welcome to Farmington, CT: A Rich History and Vibrant Community
History of Farmington, CT
Farmington, Connecticut, located in Hartford County, is a town with a rich history dating back to the early 17th century. Settled in 1640, Farmington was inhabited by English colonists and played a significant role in the development of the region. The town's fertile lands made it an agricultural center during its early years, leading to its name "Farmington." Throughout its history, Farmington was home to influential figures, including the Hooker, Whitman, and Porter families, whose contributions shaped the town's cultural and architectural heritage.
Farmington Attractions
Farmington boasts an array of attractions that cater to residents and visitors alike. Here are some notable highlights:
Stanley-Whitman House
The Stanley-Whitman House, established in 1720, is one of the oldest houses in Connecticut and now serves as a living history museum. Visitors can experience colonial life and learn about the town's early settlers through interactive exhibits and guided tours.
Hill-Stead Museum
The Hill-Stead Museum is a beautiful Colonial Revival-style house and art museum. Built in 1901, it houses an impressive collection of fine art, including works by renowned artists such as Monet, Manet, and Degas. The surrounding grounds are a delight for nature enthusiasts.
Farmington River Trail
The Farmington River Trail offers scenic walking, biking, and jogging paths that run along the picturesque Farmington River. It's a popular spot for outdoor enthusiasts seeking a tranquil escape in nature.
Miss Porter's School
Miss Porter's School, founded in 1843, is a prestigious all-girls private school with a stunning campus featuring historic buildings and beautiful gardens.
Villages, Districts, and Neighborhoods
Farmington is composed of several distinct neighborhoods, each with its unique charm and character:
Farmington Center
The heart of the town, Farmington Center, features a mix of historical architecture and modern amenities. It's home to various shops, restaurants, and community events.
Unionville
Unionville is a charming village known for its picturesque Main Street, lined with antique shops, boutiques, and cafes. The Farmington River flows through the village, providing a serene backdrop.
Farmington Village
Farmington Village offers a blend of historic homes and modern residences. It's the site of many community gatherings and festivals.
Devonwood
Devonwood is an upscale residential area known for its elegant homes and proximity to the Farmington Country Club.
Farmington Parks, Recreation Areas, Hikes, and Historic Sites
Farmington is teeming with parks and recreational opportunities:
Winding Trails
Winding Trails is a popular outdoor recreation center offering hiking trails, swimming, fishing, and seasonal activities such as cross-country skiing and ice skating.
Farmington Canal Heritage Trail
This scenic multi-use trail follows the path of the historic Farmington Canal and is ideal for biking, walking, and jogging.
Batterson Park Pond
Batterson Park Pond is a serene spot for fishing and picnicking, surrounded by nature.
Hill-Stead Museum Gardens
The gardens at the Hill-Stead Museum are a horticultural delight, showcasing stunning landscapes and plant collections.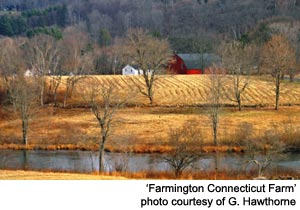 Places of Interest and Quality of Life
Farmington provides an exceptional quality of life for its residents. With its historic charm, vibrant community, and proximity to Hartford, it offers the perfect balance of suburban tranquility and urban accessibility.
Farmington CT Real Estate Values and Options
Farmington's real estate market caters to a variety of preferences. From historic homes with colonial architecture to contemporary developments with modern amenities, prospective buyers can find properties that suit their lifestyles and budget.
Opportunities and Employment
Farmington is home to various industries, including healthcare, technology, and education. The town's proximity to Hartford also provides residents with access to a broader range of employment opportunities.
Farmington CT Living
Living in Farmington means becoming part of a close-knit community that values its history, natural beauty, and cultural heritage. Residents enjoy a range of recreational activities, top-notch schools, and a thriving arts and cultural scene.
Farmington, CT, is a town with a fascinating history, abundant attractions, and a strong sense of community. Whether you're interested in exploring historical landmarks, enjoying outdoor activities, or seeking a welcoming place to call home, Farmington has something to offer for everyone.
To share your Farmington, CT business information with us, please contact us.

Incorporated: 1645
County: Hartford
Farmington, CT Population:
2010: 25,340
GPS Coordinates:
Latitude: 41.4340
Longitude: -72.5025
Farmington CT Local Information
Farmington Police Dispatch: 860-675-2400
Farmington Fire Department: 860-675-2533
Ambulance Service: 911
Town Hall Telephone: 860-675-2380
Farmington Town Hall FAX: 860-675-2389
inns | hotels | resorts | rentals | attractions | dining | real estate
Shop 24/7 at FREE WORLD MALL

| Photo | Title | Price | Buy |
| --- | --- | --- | --- |
| | Connecticut Six-Piece State Magnet Set by Classic Magnets, Includes 6 Unique Designs, Collectible Souvenirs Made in The USA | $22.99 ($3.83 / Count) | Sale Item |
| | Connecticut Kraft Label Scented Soy Candle, Citrus, Lavender, Woody, 10 Oz. Glass Jar Candle, Made in The USA, Decorative Candles, Going Away Gifts for Friends, State Candles | $24.95 | Sale Item |
| | Amerileather Waxy Brown Leather Two Piece Set Traveler | $231.98 | Sale Item |
| | Handmade Leather Carry On Bag - Airplane Underseat Travel Duffel Bags By Rustic Town (Mulberry) Medium | $149.45 | Sale Item |
| | Firu-Handmade Vintage Style Luggage Leather Duffle Bag Travel Gym Sports Overnight Weekender Leather Duffle Bags for Men and Women | | Sale Item |
| | DELSEY Paris Chatelet Hard+ Hardside Luggage with Spinner Wheels, Champagne White, Checked-Large 28 Inch, with Brake | | Sale Item |
| | Large Leather 32 Inch Luggage Handmade Duffel Bag Carryall Weekender Travel Overnight Gym Sports Carry On For Men And Women (32 inch) | $98.99 | Sale Item |
| | DELSEY Paris Chatelet Air Hardside Luggage, Spinner Wheels, Chocolate Brown, Carry-on 21 Inch | $349.99 | Sale Item |
| | Leather Travel Duffel Bag | Gym Sports Bag Airplane Luggage Carry-On Bag | Gift for Father's Day By Aaron Leather Goods | | Sale Item |
| | Fossil Men's Defender Leather Travel Duffle Luggage Bag, Cognac , (Model: MBG9344222) | | Sale Item |
| | McKlein Limited Edition Laptop Briefcase, Black Leather (96315C) | $146.24 | Sale Item |
| | Orvis Outdoor Quilted Snap Men's Pullover Sweatshirt - Mockneck Style Sweatshirt For Men with Four-Snap Quarter Placket, Navy - Large | | Sale Item |
| | vineyard vines Men's Saltwater Quarter-Zip Pullover Sweater, Grey Heather, XL | | Sale Item |
| | Columbia Women's Sweater Weather Half Zip, Chalk Heather, Medium | | Sale Item |
Vacation Rentals | Pet Friendly
Attractions | Maps | Products
Free World Mall

Country Weddings | New England Recipes
CT Inns | Red Sox Gifts | Travel Destinations