New London Connecticut Shopping
CT Shopping – New London, Ledyard, Norwich, Stonington
Shopping in the Greater New London area can mean a visit to the local downtown stores (yes, they do still exist) The Crystal Mall in Waterford is popular shopping destination, as is Old Mystic Village. Ask us about CT Shopping Malls, Stores, Outlets and Plazas or share your CT travel reviews comments. To feature your business, contact us.
New London CT Shopping Malls, Stores & Outlets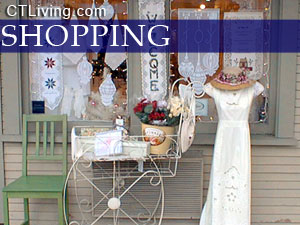 Crystal Mall
850 Hartford Turnpike
Waterford, CT 06375
The Crystal Mall contains over 130 popular stores including JCPenny, Macy's, Abercrombie & Fitch, The Children's Place, Christmas Tree Shop, Gap, and more.
New London Mall
351 North Frontage Road
New London, CT
The mall features housewares, gifts, music stores, electronics, apparel and dining. Park-like atmosphere sheltered walkways, free parking.
Norwichtown Mall
42 Town Street
Norwich, CT
A Super Stop & Shop, pet store, book store and womens apparel.
Olde Mistick Village (Village shopping)
Coogan Blvrd.,
Mystick, CT
New England style shopping is nice change from sterile shopping malls. More than 60 shops offering a nice way to spend a few hours. Browse the stores, restaurants, cafes. View the ducks and scenic seaport setting.
inns | hotels | resorts | rentals | attractions | dining | real estate
Litchfield County CT Shopping Malls & Outlets
Bridgewater, Cornwall, Kent, Litchfield
Hartford County CT Shopping Malls & Outlets
Hartford, New Britain, Suffield, Enfield
Tolland County CT Shopping Malls & Outlets
Andover, Stafford Springs, Mansfield, Tolland, Somers, Storrs, Willington
Windham County CT Shopping Malls & Outlets
Woodstock, Eastford, Plainfield, Putnam
Fairfield County CT Shopping Malls & Outlets
Bridgeport, Fairfield, Norwalk, Stamford, Newtown
New Haven County CT Shopping Malls & Outlets
Hamden, New Haven, Seymour, Waterbury
Middlesex County CT Shopping Malls & Outlets
Cromwell, Essex, Middletown, Old Saybrook
New London County CT Shopping Malls & Outlets
New London, Uncasville, Norwich, North Stonington, Mystic Village, Old Lyme
Vacation Rentals | Pet Friendly
Attractions | Maps | Products
Free World Mall

Country Weddings | New England Recipes
CT Inns | Red Sox Gifts | Travel Destinations