Fairfield Connecticut Shopping
CT Shopping – Bridgeport, Fairfield, Norwalk, Stamford
Fairfield county is a wonderful choice for Connecticut Shopping. Welcome to the Connecticut Shopping Guide. Ask us about CT Shopping Malls, Stores, Outlets and Plazas or share your CT travel reviews comments. To feature your business, contact us.
Fairfield CT Shopping Malls, Stores & Outlets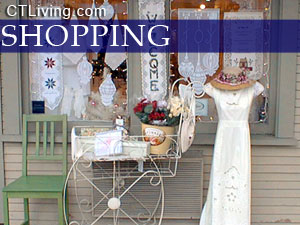 Westfield Connecticut Post
1201 Boston Post Rd.
Milford, CT 06460
Westfield Connecticut Post is a great place for one-stop shopping. Stores include Target, JCPenny, Macy's and more.
Danbury Fair Mall
7 Backus Ave.
Danbury, CT 06810
Danbury Fair Mall is a favorite among locals. It plays host to over 180 stores including Ann Taylor, Banana Republic, Apple Store and more.
Stamford Town Center
100 Greyrock Place.
Stamford, CT 06901
Stamford Town Center is an upscale shopping center that offers over 100 stores inlcuding Williams-Sonoma, Forever 21, Saks Fifth Avenue, Macy's, and more.
Westfield Trumbull
5065 Main St.
Trumbull, CT 06611
Westfield Trumbull is one of the largest shopping malls in Connecticut, including over 190 stores, such as Abercrombie, Bath & Body Works, Brookstone, Macy's, and more.
inns | hotels | resorts | rentals | attractions | dining | real estate
Litchfield County CT Shopping Malls & Outlets
Bridgewater, Cornwall, Kent, Litchfield
Hartford County CT Shopping Malls & Outlets
Hartford, New Britain, Suffield, Enfield
Tolland County CT Shopping Malls & Outlets
Andover, Stafford Springs, Mansfield, Tolland, Somers, Storrs, Willington
Windham County CT Shopping Malls & Outlets
Woodstock, Eastford, Plainfield, Putnam
Fairfield County CT Shopping Malls & Outlets
Bridgeport, Fairfield, Norwalk, Stamford, Newtown
New Haven County CT Shopping Malls & Outlets
Hamden, New Haven, Seymour, Waterbury
Middlesex County CT Shopping Malls & Outlets
Cromwell, Essex, Middletown, Old Saybrook
New London County CT Shopping Malls & Outlets
New London, Uncasville, Norwich, North Stonington, Mystic Village, Old Lyme
Vacation Rentals | Pet Friendly
Attractions | Maps | Products
Free World Mall

Country Weddings | New England Recipes
CT Inns | Red Sox Gifts | Travel Destinations