Red Hat Society
Mature Women's Largest Social Organization
From a rather peculiar beginning the Red Hat Society, or RHS, has grown to become the largest women's social organization in the world.

To feature your favorite Connecticut product or group, please contact us. Learn more about advertising in CTLiving.com.

Connecticut Red Hat Society

Founded in 1998 in Fullerton, California, this social club for mature women (age 50+) now has more than 24,000 chapters in the United States as well as other countries. Red Hat Society founder, Sue Ellen Cooper, credits the start of this women's club to a simple poem that reads;

"When I am an old woman I shall wear purple
With a red hat that doesn't go and doesn't suit me."
The poem, called "Warning" was written by Jenny Joseph. In 1997, Cooper gave a friend a 55th birthday gift consisting of a red fedora hat purchased a year earlier at a thrift store along with the poem book.
This gift-giving practice of red hats and the poem book "Warning" continued and eventually let to a social gathering – tea party of women in bright red hats.
The gatherings garnered national attention, initially in a magazine called Romantic Homes. The Red Hat Society was even featured in an episode of FOX TV's "The Simpsons". The early growth however, came primarily through word-of-mouth and viral marketing through both the internet and email.
Red Hat Society Mission
The Red Hat Society's primary mission is social. The organization encourages women to get together and have fun. Building friendships, creating new bonds, fulfillment and fitness. This civic organization is not a sorority or a volunteer service club. The Red Hat Society does no fundraising and there are no initiations.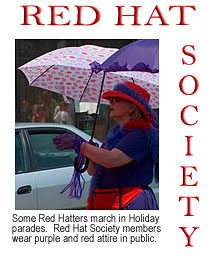 A founder or leader of a local chapter is usually referred to as a "Queen". Members are called "Red Hatters". Members 50 and over wear red hats and purple attire to all functions. A woman under age 50 may also become a member, but she wears a pink hat and lavender attire to the Society's events until reaching her 50th birthday. She is referred to as a "Pink Hatter."
For more information about the Red Hat Society including Red Hat Society books and other publication, follow the links below.

Red Hat Society "Hatquarters"
431 S. Acacia Ave., Fullerton, CA 92831
Phone: 714-738-0001 or 866-FUN-AT50
Vacation Rentals | Pet Friendly
Attractions | Maps | Products
Free World Mall

Country Weddings | New England Recipes
CT Inns | Red Sox Gifts | Travel Destinations