Famous Yale Students
Well Known Yale University Graduates & Students – Famous Yalies | CT Living Magazine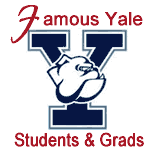 Originally named the Collegiate School, the institute was renamed Yale College in 1718 to honor Elihu Yale. Yale was the governor of the British East India Company and was a wealthy supporter of the school. Yale University is committed to educating tomorrow's leaders; nearly 40% of Yale students receive financial assistance in the form of scholarships and grants that do not need to be paid back.  Today, roughly 50% of Yale graduates are women, 30% are minorities, and 8% are international students. Applying may be easy, but getting accepted is not. Over 25,000 high school graduates apply to Yale each year, but less than 2,000 are accepted. Some of the world's most famous personalities and politicians have attended or graduated from Yale. The Yale Graduate list below represents only a small percentage. Please share your Famous Yale Graduate suggestions with us and thank you for visiting CTLiving.com – Connecticut's Internet Magazine. To feature your Connecticut business online in CTLiving.com, please contact us. Add a Comment or Update about Famous Yale Students

Famous Yale Students & Graduates

The following people studied or graduated from Yale University – an Ivy League School –  in New Haven, Connecticut. Click the photo for more information. Share your list of famous Yale Graduates or suggest the name of a famous Yale Graduate we missed.
| | | | |
| --- | --- | --- | --- |
| Jodi Foster | Henry Winkler | George W. Bush | William F Buckley |
| | | | |
| Garry Trudeau | Paul Newman | Meryl Streep | Anderson Cooper |
| | | | |
New Haven CT Inns | New Haven CT Hotels | New Haven CT Dining 
Vacation Rentals | Pet Friendly
Attractions | Maps | Products
Free World Mall

Country Weddings | New England Recipes
CT Inns | Red Sox Gifts | Travel Destinations