Windham County CT Attractions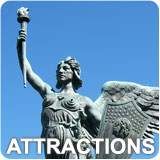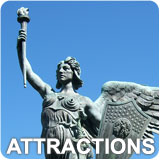 On your next visit to Windham County Connecticut be sure to check out some of the great local attractions. Find America's first indoor bowling alley in Woodstock or discover contemporary art in Brooklyn. Anyone interested in sewing would appreciate a stop at the Windham Textile and History Museum in Willimantic. The "quiet corner" of northeast Connecticut offers some unique and unusual attractions for visitors or vacationers.  Share your CT travel experiences, or feature your CT attraction, contact us.
Windham County CT Family Attractions
Prudence Crandall Museum
1 South Canterbury Road (Junctions of Routes 14 & 169)
Canterbury, CT 06331
Ph: 860-546-7800
The museum includes period rooms, changing exhibits, a small research library (available by appointment for in-house study) and a gift shop. The museum's first floor is fully accessible.
Roseland Cottage
A National Historic Landmark
Route 169
Woodstock, Conn. 06281
Ph: 860-928-4074
Roseland Cottage depicts the summer life of a prosperous family in mid-19th-century America. Built in 1846 in the newly fashionable Gothic Revival style, the house provided a seasonal escape from a more formal city existence for Henry Chandler Bowen and his family. Bowen, a Woodstock native, made his fortune in New York and became an active abolitionist, Congregationalist, and Republican.
New England Center for the Contemporary Arts
7 Putnam Place
Brooklyn, CT 06234
Ph: 860-774-8899
New England Center for Contemporary Art's mission is to educate the public with respect to contemporary art and the artists. Promoting interest in contemporary arts, including but not limited to painting, drawing, sculpture, graphics, art glass and other decorative arts.
Windham Textile and History Museum
411 Main Street
Willimantic, CT 06226
Ph: 860-456-2178
The museum is specifically interested in the history of the people who worked and built mill communities in the Windham region during the industrial revolution.
inns | hotels | resorts | rentals | attractions | dining | real estate
Litchfield County CT Attractions
Bridgewater, Cornwall, Kent, Litchfield
Hartford County CT Attractions
Hartford, New Britain, Suffield, Enfield
Tolland County CT Attractions
Andover, Stafford Springs, Mansfield, Tolland, Somers, Storrs, Willington
Windham County CT Attractions
Woodstock, Eastford, Plainfield, Putnam
Fairfield County CT Attractions
Bridgeport, Fairfield, Norwalk, Stamford, Newtown
New Haven County CT Attractions
Hamden, New Haven, Seymour, Waterbury
Middlesex County CT Attractions
Cromwell, Essex, Middletown, Old Saybrook
New London County CT Attractions
New London, Uncasville, Norwich, North Stonington, Mystic Village, Old Lyme
Vacation Rentals | Pet Friendly
Attractions | Maps | Products
Free World Mall

Country Weddings | New England Recipes
CT Inns | Red Sox Gifts | Travel Destinations