Tolland CT Attractions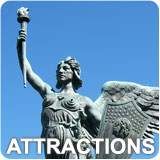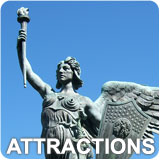 Tolland County Connecticut is a great place to visit any time of year with the University of Connecticut, Stafford Motor Speedway, theatre, art museums, and UConn basketball games. There is an interesting selection of things to do here in Central Connecticut. A day at UCONN in Storrs offers several fascinating museums to visit on campus. CT Living shares the best of Connecticut Attractions. Ask us about CT attractions, or share your CT travel experiences, contact us.
Tolland UConn CT Attractions
The University of Connecticut – Connecticut State Museum of Natural History
Connecticut Archaeology Center
2019 Hillside Rd., Unit 1023
Storrs, CT 06269-1023
Ph: 860-486-4460
Located in the heart of the UConn campus, the Connecticut State Museum of Natural History is an important part of a broad educational vision.
Stafford Motor Speedway
P.O. Box 105
Stafford Springs, CT 06076
Ph: 860-684-2783
Open early April – late October the Stafford Motor Speedway is home to the SK Modifieds and features NASCAR races weekly.
William Benton Museum of Art
245 Glenbrook Road, U-2140
Storrs, CT 06269
Ph: 860-486-4520
The William Benton Museum has an exceptionally fine collection of more than 5,500 works including paintings, drawings, watercolors, prints, photographs, and sculptures. Exhibitions change frequently, so please call ahead for current exhibition information or check the website for a preview of upcoming attractions.
Nathan Hale Homestead Museum
2299 South Street
Coventry, CT
Ph: 860-742-6917
The home of Patriot Nathan Hale is open for public viewing.
Harry A. Gampel Pavillion / UConn
University of Connecticut
Storrs, CT 06269
Ph: 860-486-2000
Home of the Connecticut Men and Women's Basketball on-campus home arena.
Somers Mountain Indian Museum
332 Turnpike Rd Box 55
Somers, CT
Ph: 860-749-4129
Somers Mountain Museum of Natural History and Primitive Technology, Inc. exists help foster an understanding of the interconnects of the human community and the natural world through the study of nature and the wisdom and experience of our planet's indigenous peoples.
Connecticut Repertory Theatre
802 Bolton Rd, Unit 1127
Storrs, CT 06269-1127
Ph: 860-486-4226
Connecticut Repertory Theatre presents a wide range of material including premieres, contemporary plays, classics of the American musical theatre, and great works from the canon of world drama presented with both traditional and experimental points of view.
inns | hotels | resorts | rentals | attractions | dining | real estate
Litchfield County CT Attractions
Bridgewater, Cornwall, Kent, Litchfield
Hartford County CT Attractions
Hartford, New Britain, Suffield, Enfield
Tolland County CT Attractions
Andover, Stafford Springs, Mansfield, Tolland, Somers, Storrs, Willington
Windham County CT Attractions
Woodstock, Eastford, Plainfield, Putnam
Fairfield County CT Attractions
Bridgeport, Fairfield, Norwalk, Stamford, Newtown
New Haven County CT Attractions
Hamden, New Haven, Seymour, Waterbury
Middlesex County CT Attractions
Cromwell, Essex, Middletown, Old Saybrook
New London County CT Attractions
New London, Uncasville, Norwich, North Stonington, Mystic Village, Old Lyme
Vacation Rentals | Pet Friendly
Attractions | Maps | Products
Free World Mall

Country Weddings | New England Recipes
CT Inns | Red Sox Gifts | Travel Destinations