New London CT Attractions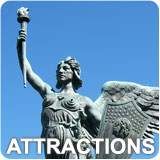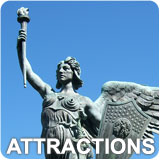 Welcome to New London county. Find history, art, education, Foxwoods and Mohegan Sun casinos, playhouses and entertainment. From world-class museums to fascinating "points-of-interest" this is an exciting region to visit. Click the links below for more info. Ask us about CT attractions, or share your CT travel experiences. To feature your CT business, contact us.
New London County CT Attractions
Foxwood Resort Casino
Mashantucket, CT 06338
In 1986 the Mashantucket Pequot Tribal Nation opened the original high-stakes bingo hall. Today Foxwoods comprises six casinos that collectively offer more than 7,000 slot machines and an incredible 400 tables for 17 different types of table games, including 100 for poker. There's a luxurious, high-tech Race Book, as well as the world's largest Bingo Hall. Foxwoods is the largest casino in the world, with 340,000 square feet of gaming space in a complex that covers 4.7 million square feet. More than 40,000 guests visit Foxwoods each day. The MGM Grand Resort is a more recent addition to the Foxwoods Entertainment Complex and features a hotel, casino and concert hall.
Mohegan Sun Arena
1 Mohegan Sun Blvd
Uncasville, CT 06382
The Mohegan Sun Arena hosts major concerts, live performances and sporting events. The Mohegan Sun Arena is attached to the Mohegan Sun Resort and Casino.
Ocean Beach Park
96 Neptune Avenue
New London, CT 06320
Ph: 800-510-7263
Ocean Beach Park is a 50-acre seaside amusement park in New London that is open Memorial Day through Labor Day.
Garde Arts Center
325 State Street
New London, CT 06320
Ph: 860-444-7373
The Garde Arts Center strives to engage, enrich, entertain and inspire the region of greater New London County.
New London Ledge Lighthouse
P.O. Box 855
New London, Connecticut 06320
Take a cruise out to see the Ledge Lighthouse built in 1909. You will find it near the New London Harbor, at the extreme eastern end of Long Island Sound. The unique lighthouse was built to direct vessels around the dangerous ledges at the entrance to the harbor.
Florence Griswold Museum
96 Lyme Street
Old Lyme, CT 06371
Ph: 860-434-5542
Visitors to the Museum are treated to a rare opportunity. Not only do they see where and how these early 20th century artists lived and worked, but the museum's outstanding collection also offers the chance to see their paintings in the context of the Connecticut landscape and village where many of the works were created.
Mystic Aquarium & Institute for Exploration
55 Coogan Blvd.
Mystic, CT 06355-1997
Ph: 860-572-5955
Fax: 860-572-5969
Mystic Aquarium & Institute for Exploration is so much more than an aquarium. It's not just a place to visit ocean life, it's a unique experience in living marine creatures and the latest discoveries of our underwater world.
Mystic Seaport – The Museum of America and the Sea
75 Greenmanville Avenue
Mystic, CT 06355-0990
Ph: 860-572-5315
Climb aboard an historic tall ship. Discover stars under the planetarium dome. Explore exhilarating exhibits. See a working shipyard in action. Take a horse and carriage ride through a recreated 19th-century seafaring village.
Olde Mistick Village
Mystic, CT 06355
Ph: 860-536-4941
Step back into the 1700s. Experience Early American charm and beauty. Linger in more than forty quaint shoppes, which feature many unique items from around the world found only at Olde Mistick Village.
Stonington Vineyards
523 Taugwonk Rd – PO Box 463
Stonington, Connecticut 06378
Ph: 860-535-1222
Come stroll through our vineyards and sample our wines.
Submarine Force Museum
Naval Submarine Base New London
Groton, CT 06349-5571
Ph: 800-343-0079
Visit the Submarine Force Museum and peer into the lives of the men who sail the ocean depths in their "sharks of steel."
Waterford Speedway
Route 85, 1080 Hartford Road
Waterford, CT 06385
Ph: 860-442-1585
Exciting NASCAR stockcar racing, usually Saturday night. Seasonal.
inns | hotels | resorts | rentals | attractions | dining | real estate
Litchfield County CT Attractions
Bridgewater, Cornwall, Kent, Litchfield
Hartford County CT Attractions
Hartford, New Britain, Suffield, Enfield
Tolland County CT Attractions
Andover, Stafford Springs, Mansfield, Tolland, Somers, Storrs, Willington
Windham County CT Attractions
Woodstock, Eastford, Plainfield, Putnam
Fairfield County CT Attractions
Bridgeport, Fairfield, Norwalk, Stamford, Newtown
New Haven County CT Attractions
Hamden, New Haven, Seymour, Waterbury
Middlesex County CT Attractions
Cromwell, Essex, Middletown, Old Saybrook
New London County CT Attractions
New London, Uncasville, Norwich, North Stonington, Mystic Village, Old Lyme
Vacation Rentals | Pet Friendly
Attractions | Maps | Products
Free World Mall

Country Weddings | New England Recipes
CT Inns | Red Sox Gifts | Travel Destinations