New Haven – Yale CT Attractions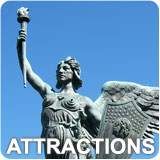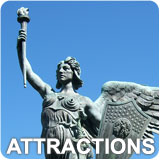 Welcome to New Haven county. History, art, education and entertainment have a rich heritage in the region. Yale University is located here and the fabulous Shubert Theatre and Long Wharf Theatre provide wonderful live performances year 'round. You'll find the state's largest oceanside beach in Madison and the educational Eli Whitney Museum in Hamden. Click the links below for more info. Ask us about CT attractions, or share your CT travel experiences. To feature your CT business, contact us.
New Haven County CT Attractions
Toyota Presents The Oakdale Theatre
95 South Turnpike Road
Wallingford, CT 06492
This famous rotating stage venue has played host to hundreds of live concerts and dance performances. Check for current concert dates and event tickets.
The Palace Theater
East Main Street
Waterbury, CT
This historic theater in Downtown Waterbury was renovated in 2004. It is located in the geographic center of Connecticut and features live music, stage show, and events. More Palace Theater information.
The Webster Arena
Main Street
Bridgeport, CT
This downtown ice arena and concert venue is home to the University of Fairfield Stags Basketball team, Bridgeport Sound Tiger AHL Professional Hockey and Sacred Heart University Hockey.
Shubert Theatre
247 College Street
New Haven, Connecticut 06510
Ph: 203-624-1825
This famous theater, known as 'The Birthplace of The Nation's Greatest Hits,' has witnessed the premiers of over 200 plays – some of which have gone to be Broadway hits, including 'The Sound of Music,' 'The King and I' and 'Long Day's Journey into Night.'
The Eli Whitney Museum
915 Whitney Avenue
Hamden, CT 06517
Ph: 203-777-1833
The Eli Whitney Museum is an experimental learning workshop for students, teachers, and families. We collect, interpret and teach experiments that are the roots of design and invention.
Hammonasset Beach State Park
1288 Boston Post Road
Madison, CT 06443
Ph: 203-245-2785
Connecticut's largest shoreline park offers over 2 miles of beach to enjoy swimming, strolling along the boardwalk, or just relaxing in the sun and surf.
Long Wharf Theatre
222 Sargent Drive
New Haven, CT 06511
Ph: 203-787-4282
A professional theater that produces many shows each year to over 100,000 audience members. Many of the shows produced here have gone on to broadway.
Quassy Amusement Park
2132 Middlebury Road
Middlebury, CT 06762
Ph: 203-758-2913
Quassy offers a variety of exciting and fun-filled rides and attractions for the entire family. From the thrills of the "Yo-Yo" super swing and "The Big Flush Water Coaster," to a pleasant and leisurely ride aboard "Quassy Queen II," there really is something for everyone.
Sleeping Giant State Park
Two-mile-long jagged ridges and hills within the valley. Volcanic activity created outcropping resembling the profile of giant lying on its back hence the name "sleeping giant".  Nice easy hiking trails to the summit.
Timexpo
175 Union Street
Brass Mill Commons Mall
Waterbury, CT 06706
Ph: 203-755-TIME
Trace the history of our company from the 1850s to the very latest in today's technology.
Yale University Art Gallery
1111 Chapel Street (at York Street)
New Haven, Connecticut
Ph: 203-432-0600
The Yale University Art Gallery's permanent collection includes over 185,000 works, organized into ten curatorial areas.
Peabody Museum of Natural History
Yale University
New Haven, CT 06520-8118
Ph: 203-432-6646
Anthropology, Meteorites, and Planetary Science, Botany, The Yale Herbarium, Mineralogy, Entomology, Paleobotany, Historical Scientific Instruments, Vertebrate Paleontology, Invertebrate Paleontology, Vertebrate Zoology, Invertebrate Zoology. The collections offer crucial keys to the history of the earth and in some cases are the only surviving traces of animals, plants, and cultures that have become extinct.
Barker Character Comic & Cartoon Museum
1188 Highland Avenue
Cheshire, Ct. 06410
Ph: 203-699-3822
Do you remember your Roy Rogers Lunch Box, Ronald McDonald Phone, Charlie McCarthy Puppet, Flintstones Band Toy, Lone Ranger Gun or Mickey & Minnie Hand-Car? They are all here to see along with thousands of other items of the comic strip world, cartoon, western, T.V. and advertising memorabilia personally amassed by Herb and Gloria Barker.
Henry Whitfield State Museum
248 Old Whitfield Street
Guilford, CT 06437
Ph: 203-453-2457
Visitors may tour two buildings on the site. At the Visitor Center, you can pick up travel information in the lobby, browse through the gift shop, purchase admission tickets, view changing exhibits in two galleries, or use the research library.
New Haven Green
New Haven, Connecticut
16-acre centrally located village green features three churches representing different time periods: Gothic, Federal and Georgian. One of nine squares in original 1683 plan of city, designed to serve as open space and pasture land.


New Haven County CT Living
inns | hotels | resorts | rentals | attractions | dining | real estate
Litchfield County CT Attractions
Bridgewater, Cornwall, Kent, Litchfield
Hartford County CT Attractions
Hartford, New Britain, Suffield, Enfield
Tolland County CT Attractions
Andover, Stafford Springs, Mansfield, Tolland, Somers, Storrs, Willington
Windham County CT Attractions
Woodstock, Eastford, Plainfield, Putnam
Fairfield County CT Attractions
Bridgeport, Fairfield, Norwalk, Stamford, Newtown
New Haven County CT Attractions
Hamden, New Haven, Seymour, Waterbury
Middlesex County CT Attractions
Cromwell, Essex, Middletown, Old Saybrook
New London County CT Attractions
New London, Uncasville, Norwich, North Stonington, Mystic Village, Old Lyme
Vacation Rentals | Pet Friendly
Attractions | Maps | Products
Free World Mall

Country Weddings | New England Recipes
CT Inns | Red Sox Gifts | Travel Destinations