Middlesex County CT Attractions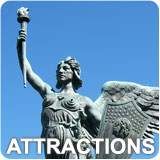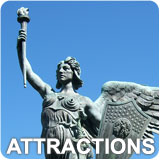 There are an abundance of visitor attractions here in Middlesex county Connecticut. From outlet shopping to an incredible castle with hidden compartments. This area features an historic Opera House and some magnificent world-class museums. Find Middlesex county Connecticut an interesting place to visit any time of year.Click the links below for more info. Ask us about CT attractions, or share your CT travel experiences. To feature your CT business, contact us.
Middlesex County CT Family Attractions
Clinton Crossing Premium Outlets
20-A Killingworth Turnpike
Clinton, CT 06413
Ph: 860-664-0700
Over 70 outlets including many of your favorite name brands.
Gillette Castle State Park
Ph: 860-526-2336
67 River Road.
East Haddam, CT 06423
Nooks and Crannies, Secret Passages, Hidden Compartments, Cunning Locks, Exotic Woodand Stone-work, and the many sidelights of a clever and theatrical personality of Gillette Castle.
Goodspeed Opera House
East Haddam, CT 06423
Ph: 860-873-8664
Standing today as it has since 1876, the Opera House is an architectural beauty from any vantage point. In this century, it is hard to imagine shipbuilding and steamship industries thriving on the Connecticut River. However, William Goodspeed, who was a shipbuilder and multi-faceted businessman, built this building to catch the attention of the bustling river traffic and promote the interests of the East Haddam community.
Connecticut River Museum
67 Main St. Steamboat Dock
Essex, CT 06426
Ph: 860-767-8269
Housed in an 1878 Steamboat Dock warehouse located on the waterfront, the museum tells the Connecticut River Valley story in four galleries, with a working reproduction of the American Turtle, America's first submarine.
The Valley Railroad Company
One Railroad Avenue
Essex, CT 06426
Ph: 860-767-0103
Coal-fired locomotives pull a collection of lovingly restored railroad cars.
Allegra Farm
East Haddam, CT 06423
Ph: 860-680-5149
Ph: 860-537-8861
While it's true the 19th century is well over 100 years behind us now, John Allegra and Allegra Farm are keeping this era alive with the restoration of vintage horse drawn carriages, wagons and equipment. Allegra Farm is home to the Horse Drawn Carriage and Sleigh Museum of New England, and full time carriage service is our only business.
inns | hotels | resorts | rentals | attractions | dining | real estate
Litchfield County CT Attractions
Bridgewater, Cornwall, Kent, Litchfield
Hartford County CT Attractions
Hartford, New Britain, Suffield, Enfield
Tolland County CT Attractions
Andover, Stafford Springs, Mansfield, Tolland, Somers, Storrs, Willington
Windham County CT Attractions
Woodstock, Eastford, Plainfield, Putnam
Fairfield County CT Attractions
Bridgeport, Fairfield, Norwalk, Stamford, Newtown
New Haven County CT Attractions
Hamden, New Haven, Seymour, Waterbury
Middlesex County CT Attractions
Cromwell, Essex, Middletown, Old Saybrook
New London County CT Attractions
New London, Uncasville, Norwich, North Stonington, Mystic Village, Old Lyme
Vacation Rentals | Pet Friendly
Attractions | Maps | Products
Free World Mall

Country Weddings | New England Recipes
CT Inns | Red Sox Gifts | Travel Destinations