Fairfield CT Attractions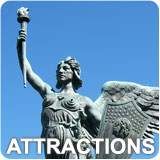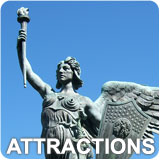 There are an abundance of visitor attractions throughout Connecticut. From world-class museums to facinating "point-of-interest" Connecticut is great place to visit any time of year. Click the links below for more info. Ask us about CT attractions, or share your CT travel experiences. To feature your CT business, contact us.
Fairfield County CT Family Attractions
The Aldrich Contemporary Art Museum
258 Main Street,
Ridgefield, CT 06877
Ph: 203-438-4519
Exhibitions feature work by emerging and mid-career artists, and education programs help adults and children to connect to today's world through contemporary art.
Barnum Museum
820 Main Street
Bridgeport, CT 06604
Ph: 203-331- 1104
The Barnum Museum is committed to the preservation and interpretation of Bridgeport's industrial and social history.
Beardsley Zoo
1875 Noble Avenue
Bridgeport, CT 06610-1646
Ph: 203-394-6565
Spend an hour or the whole day and see more than 300 animals representing primarily North and South American species.
Boothe Memorial Astronomical Society
Boothe Memorial Park
Main Street
Stratford, CT 06615
Ph: 203-377-9933
The Society has a proud tradition of educating the public on astronomy and stargazing and its principle telescope, fondly known as Big Eye is one of the largest in the state.
Discovery Museum
4450 Park Avenue
Bridgeport, CT 06604
Ph: 203-372-3521
From three floors of hands-on fun with science to High-Definition movies and daily Planetarium shows, all included with admission to the museum!
Maritime Aquarium of Norwalk
10 North Water Street
Norwalk, CT 06854
Ph: 203-852-0700
The nationally recognized aquarium features sharks, seals, a river otter, sea turtles, jellies, frogs, poison dart frogs, salamanders, tree frogs, tomato frogs, bull frog, horned frogs, toads, amphibian, amphibians and 125 other species from Long Island Sound.
Playhouse on the Green
177 State Street
Bridgeport, CT 06604
Box Office: 203-333-3666
Often compared to an "intimate" Broadway setting, the theatre has marble walls, gold-leaf trim, and brass light fixtures. Once you experience its spectacular décor, you'll see why the Connecticut Post calls the Playhouse "a jewel of a theatre". Come enjoy the best of Broadway—in Bridgeport!
Stamford Center for the Arts
Palace Theatre
61 Atlantic Street
Stamford, CT 06901
Ph: 203-325-4466
Featuring Comedy, Concerts, Theatre, Dance, Family Entertainment, symphony, Opera, and more.
Sterling House
2283 Main Street
Stratford, CT 06615
Ph: 203-378-2606
Sterling House is a community center for all ages. Providing adult programs, athletics and games, community service, day camp, a child development center and youth and teen programs.
The Bruce Museum
One Museum Drive
Greenwich, CT 06830
Ph: 203-869-6786
inns | hotels | resorts | rentals | attractions | dining | real estate
Litchfield County CT Attractions
Bridgewater, Cornwall, Kent, Litchfield
Hartford County CT Attractions
Hartford, New Britain, Suffield, Enfield
Tolland County CT Attractions
Andover, Stafford Springs, Mansfield, Tolland, Somers, Storrs, Willington
Windham County CT Attractions
Woodstock, Eastford, Plainfield, Putnam
Fairfield County CT Attractions
Bridgeport, Fairfield, Norwalk, Stamford, Newtown
New Haven County CT Attractions
Hamden, New Haven, Seymour, Waterbury
Middlesex County CT Attractions
Cromwell, Essex, Middletown, Old Saybrook
New London County CT Attractions
New London, Uncasville, Norwich, North Stonington, Mystic Village, Old Lyme
Vacation Rentals | Pet Friendly
Attractions | Maps | Products
Free World Mall

Country Weddings | New England Recipes
CT Inns | Red Sox Gifts | Travel Destinations