Hartford County CT Antique Shops
Hartford Connecticut Antique Dealers – New Britain, Suffield, Enfield, Hartford

Hartford is a great place to shop for antiques. Connecticut's Capitol City has some surprising Antique stores. The Connecticut River towns of Enfield, Unionville and Farmington has some interesting antique venues. You'll find some great Antique Stores, Multi-Dealer Marketplaces and one-of-a-kind Collectible Shops here. Ask us about Hartford county CT Antique Shops or share your CT Antique hunting comments. To feature your Connecticut Antique Store, contact us.
Hartford CT Antique Malls Stores & Dealers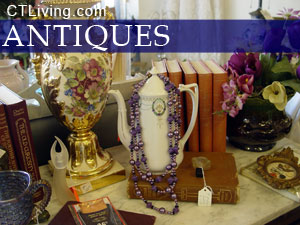 Fiddlehead Antiques Barn
74R Silkey Road
North Granby, CT 06060
Ph: 860-653-5379
Featuring home and gift collections of antique and decorative arts, and handcrafted unique jewelry.
Ainsworth Antiques
6 Print Shop Road
Enfield, CT 06082
Ph: 860-749-8883
Ainsworth Antiques offers a wonderful presentation of 19th and 20th century American antique furniture.
Antiques on the Farmington
218 River Road
Unionville, CT 06085
Ph: 860-693-0615
Furniture, Lighting, Linens, Silver, China, Glassware, Clocks, Art, Jewelry,
Books, Ephemera, Toys, Civil War Items, Vintage Country Store Items, Decorating Accessories and Collectibles.
Antiq's
1839 New Britain Avenue
Farmington, Connecticut 06032
Ph: 860-676-2670
The Collection includes 18th and 19th century furniture and period lighting and decorative accessories.
inns | hotels | resorts | rentals | attractions | dining | real estate
Litchfield County CT Antique Stores
Bridgewater, Cornwall, Kent, Litchfield
Hartford County CT Antique Stores
Hartford, New Britain, Suffield, Enfield
Tolland County CT Antique Stores
Andover, Stafford Springs, Mansfield, Tolland, Somers, Storrs, Willington
Windham County CT Antique Stores
Woodstock, Eastford, Plainfield, Putnam
Fairfield County CT Antique Stores
Bridgeport, Fairfield, Norwalk, Stamford, Newtown
New Haven County CT Antique Stores
Hamden, New Haven, Seymour, Waterbury
Middlesex County CT Antique Stores
Cromwell, Essex, Middletown, Old Saybrook
New London County CT Antique Stores
New London, Uncasville, Norwich, North Stonington, Mystic Village, Old Lyme
Vacation Rentals | Pet Friendly
Attractions | Maps | Products
Free World Mall

Country Weddings | New England Recipes
CT Inns | Red Sox Gifts | Travel Destinations