Fairfield County CT Antique Shops
Fairfield Connecticut Antique Dealers – Bridgeport, Norwalk, Stamford, Newtown

Fairfield county is a wonderful choice for Connecticut Antique hunting. You'll find some great Antique Stores, Multi-Dealer Marketplaces and one-of-a-kind Collectible Shops here. Ask us about Fairfield county CT Antique Shops or share your CT Antique hunting comments. To feature your Connecticut Antique Store, contact us.
Fairfield CT Antique Malls Stores & Dealers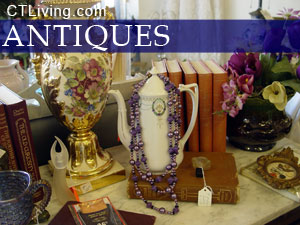 Runk Douglas Antiques
362 Pequot Ave.
Southport, CT 06890
Ph: 203-254-7315
Specializing in English antique furniture, long case clocks, antique jewelry.
Stratford Antique Center
400 Honeyspot Road
Stratford CT 06497
Ph: 203-378-7754
The Stratford Antique center houses 16,500 square feet of antiques and collectibles offered for sale from approximately 200 dealers.
inns | hotels | resorts | rentals | attractions | dining | real estate
Litchfield County CT Antique Stores
Bridgewater, Cornwall, Kent, Litchfield
Hartford County CT Antique Stores
Hartford, New Britain, Suffield, Enfield
Tolland County CT Antique Stores
Andover, Stafford Springs, Mansfield, Tolland, Somers, Storrs, Willington
Windham County CT Antique Stores
Woodstock, Eastford, Plainfield, Putnam
Fairfield County CT Antique Stores
Bridgeport, Fairfield, Norwalk, Stamford, Newtown
New Haven County CT Antique Stores
Hamden, New Haven, Seymour, Waterbury
Middlesex County CT Antique Stores
Cromwell, Essex, Middletown, Old Saybrook
New London County CT Antique Stores
New London, Uncasville, Norwich, North Stonington, Mystic Village, Old Lyme
Vacation Rentals | Pet Friendly
Attractions | Maps | Products
Free World Mall

Country Weddings | New England Recipes
CT Inns | Red Sox Gifts | Travel Destinations